North Carolina Degree Production
Certificates
+ %
2020 vs. 2019
Associate Degrees
- %
2020 vs. 2019
Bachelor Degrees
+ %
2020 vs. 2019
Measuring Our Progress
---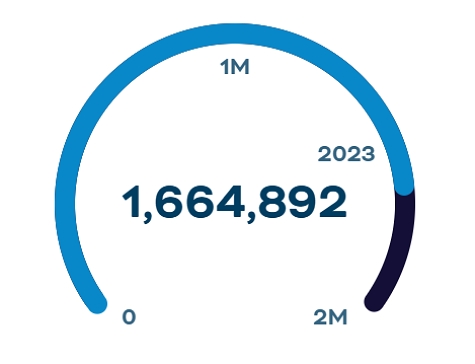 DRIVING TOWARD 2 MILLION BY 2030
North Carolina faces a growing need for talent. More people must earn degrees, workforce certificates, and other high-quality credentials. myFutureNC tracks the postsecondary attainment of North Carolinians ages 25-44, as well as performance from Pre-K to college and career.
As of 2019*, North Carolina had an estimated 1,450,249 adults 25-44 with a high-quality degree or credential; this is 44,000 below where the state needed to be, at this time, to be on target to the 2 million by 2030 goal.
About the dashboard
* Due to COVID-19 impacts on data collection, this number cannot be updated with 2020 values. We anticipate updating in late 2022 when 2021 data are released.
Click to view North Carolina County Educational Profiles
---